Steveston, The Gulf of Georgia Cannery, Fraser River
Our only mistake in setting up our tour of the Sunshine Coast was electing to spend our first evening at an airport hotel in Richmond. It was fine as far as hotels go. The restaurant had a pleasant British pub atmosphere and excellent food. After a much-needed nap, however, I felt thwarted to be in a location I dreaded most… convenient to the airport but identical to any other location anywhere, on an urban commercial street disrupted by vast areas of construction!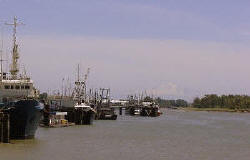 Happily, we discovered Steveston, a suburb just south of Vancouver/Richmond. Steveston claims to be the oldest surviving community in Canada's lower mainland. Here the wharves for nearly 1,000 commercial fishing vessels jut into the estuary of the historic Fraser River. By the time it empties into the Strait of Georgia, the Fraser River has meandered 1400 kms through the interior of British Columbia, from the Mt. Robson in the Canadian Rockies.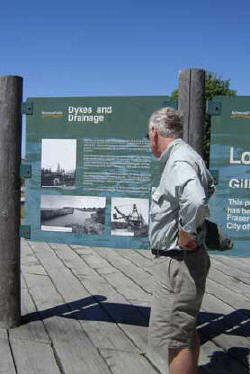 .Accommodations overlooking the Fraser River estuary would have put us immediately "on vacation" and immersed in the unique local heritage. While Steveston once had 14 canneries, today only the Gulf of Georgia Cannery survives… it is a fascinating National Historic Site which provided us with the best overview we found of the now defunct salmon/herring fishery and the canning process at the turn of the century.
There is good reason that Richmond has Canada's largest Chinatown. 60% of the population has Asian roots. It was the ancestors of these residents who provided the muscle for the salmon canneries that lead to the settlement of western Canada.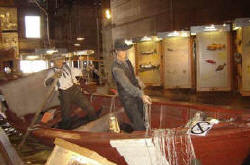 The dike system along the Fraser River at Steveston is well interpreted
Fishing display at the Gulf of Georgia Cannery National Historic Site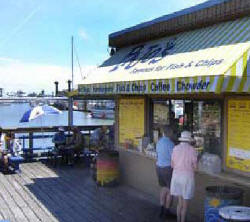 For a delightful afternoon, we strolled the fishing wharves, visited small shops, ate fresh fish and chips at Pajo's. The Gulf of Georgia Cannery National Historic Site is located right adjacent to the wharves .

Steveston wharves as seen from the Fraser River.
If you Go: Contact the Tourism office at Steveston. If you are a river buff, let them know. Our experience was that they keyed right into our interest in flood control, fisheries, and natural history of rivers. The Fraser River flows from Montana to the Yukon and is the 5th largest river in Canada. Steveston is surrounded by publicly accessible dikes which protect the area from high water. Allow 2.5 hours to walk the entire interpretive trail...Or simply stop at one of interpretive signs as you drive into Steveston. The road also follows the dike system.
For more info on the Fraser River Valley: www.britishcolumbia.com/lakesandrivers/details/
CONTINUE to Howe Sound and the BC Ferries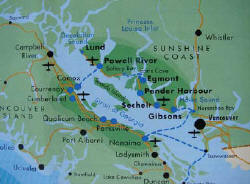 Click map to enlarge.
Return to: Waterway Cruises Directory OR www.greatriver.com