BC Ferry System
A passenger on one of the Washington State ferries in the San Juan Islands had recommended that if we enjoyed ferrying through the islands off Seattle, we simply must explore the beautiful island-studded coast of British Columbia just north of Vancouver.
The BC Ferry system crisscrosses the same pristine waters that the big cruise boats sail on the return from Alaska to Seattle. As most small-boat cruisers will attest, there is no more scenic view point than from on the waterway itself.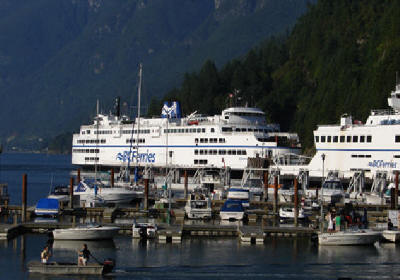 What we hadn't expected when we contacted Vancouver Coast and Mountains for travel information was the pearl-like string of coastal villages that
cling to the rocky inlets and peninsulas of the fjord-like BC coast.
Having our own vehicle to explore the villages was a must (and an unexpected delight.) Our trip was planned for a week... just enough to explore the 110 mile stretch of Hwy 101. We only had to fill the gas tank once.
In our case, ferry passage for auto and passengers was $116 which purchased tickets good for a total of four ferry transfers...round trip across Howe Sound out of Horseshoe Bay and again at the Earl's Cove/Saltery Bay terminal near Powell River. Ferry crossings run about 1.5 hours. These two ferries crossings make it possible for a visitor to drive from North Vancouver to Lund and Desolation Sound. Additional crossings to Vancouver Island would allow for the popular "Circle Route". Vancouver Island, with its rainforests and snowcapped mountains would make an excellent addition to this tour.
When you plan your trip, look into a 4 or 7-day SailPass which is good for a vehicle and 2 passengers on each of the 20 southern BC ferry routes. This includes the circle tour to Vancouver Island.
BC Ferries: Ferry schedules and information:
Detailed ferry schedules are available online and in many of the current tourism brochures.
Phone: 888-223-3779 or Visit www.bcferries.ca
Vancouver Island separates the Gulf of Georgia Strait from open ocean. The island with its snow-capped mountains forms a natural breakwater which means the waters in the Strait offer exceptionally pleasant ferry transfers, yachting, and kayaking.
Map of the Sunshine Coast of British Columbia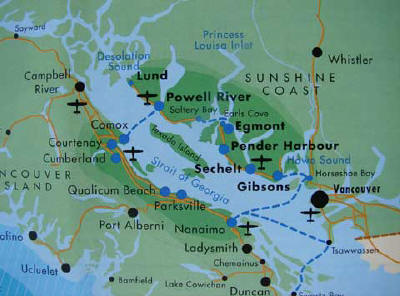 Directions to Horseshoe Bay Ferry Terminal from Vancouver:
Drive West on Georgia Street, through Stanley Park. Cross the Lions Gate Bridge and Follow Highway 1 (Upper Levels Highway) to Horseshoe Bay Ferry Terminal. Ask locally for the driving time. It can very from 40 minutes to over two hours. Rush hour traffic is VERY SLOW in Vancouver, so allow plenty of time to drive from the communities south of downtown Vancouver.
At the terminal, you will be directed to the transfer lanes for the Langdale/Gibsons ferry, which will cross Howe Sound. Plan to arrive at least 30 minutes before departure. We found the boarding procedure to be efficient and safe... and always right on time.
Normally, they ask that you be there 1/2 hour early for board, but be sure to check out the website for BC Ferries and have them tutor you a bit in the fine points of using the ferries (such as the possibility of making advance reservations for a crossing, or any known schedule changes). There are often schedule changes during summer holidays when ferry use is extremely heavy. During the 4th of July holidays, we planned to get to the ferry two hours before departure.
CONTINUE Across Howe Sound at the Horseshoe Bay Ferry Terminal to Gibsons and Soames Point B&B
Return to: Waterway Cruises Directory OR www.greatriver.com