A trip to the village of Gibsons, just down the road from Soames Point B&B, offered us a first glimpse of the easy days to follow. Distances were never far. One destination might be a village wharf, another a drift-wood rimmed beach, another an overlook of a grand bay. Every July day was pristine... this west coast area is known as the "Sunshine Coast" for good reason... it statistically offers more hours of sunshine than any other portion of the Northwest Coast.
Early mornings were beautiful. July sunrise seemed to be about 4:45 a.m. It was always a spectacular awakening as rosy morning sun gradually crept along the tops of the mountainous islands west of the coastline. Foggy mornings would slowly clear in the sounds. The sun didn't set until about 10 or 10:15 p.m.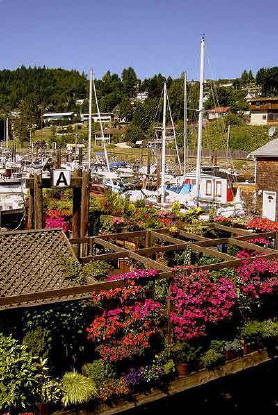 The public wharf in Gibsons presented an exuberant riot of boats of all types… fishing boats, private yachts and humorous "house boats"… in one case a 3 story clapboard, another more of a shed boat, while yet another appeared to be disguised as a floating flower garden!
We planned to enjoy fresh halibut or cod every day on the docks. Boutiques are plentiful along the waterfronts, as are restaurants. We found food presentations throughout western Canada to be as satisfying to SEE as it was to taste.
Waterfront Restaurant and Molly's Reach Restaurant both overlook the harbor at Gibsons Landing.
Houseboats at Gibsons wharf ... is this a boat or a flower shop?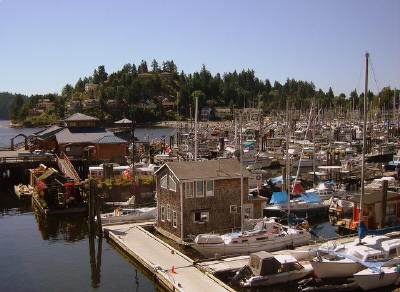 A nice clapboard on the water?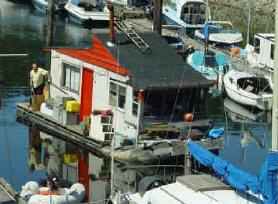 How about a fixer-upper?
CONTINUE
Halfmoon Bay and Wildflowers Bed and Breakfast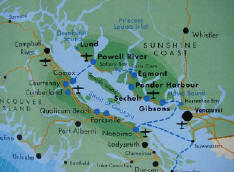 Map of the Sunshine Coast of British Columbia
Return to: Waterway Cruises Directory OR www.greatriver.com