Wildflowers B&B and Halfmoon Bay for
Best Romantic Interlude
Only one of our B&B destination was not overlooking the sea. Wildflowers Bed and Breakfast distinguishes itself as a romantic get-away. A comfy robe, bottle of wine, Jacuzzi, canopy bed, and rainforest shower assures warm memories year around. It was a setting made for two. Delux cabins (there are only two) were set near a large rock face while a pond and hot tub graced the large landscaped yard. An additional menu of spa services were provided in the privacy of the cabin. A delicious breakfast was served on the deck.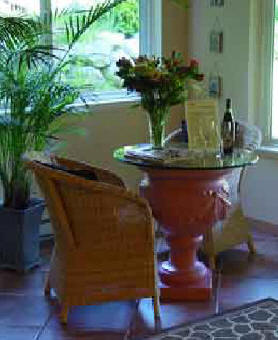 Reserve your accommodations along the Sunshine Coast well in advance. We found that while Americans make up a large portion of the visitor population, Canadians also relish the peaceful respite offered by a rural B&B.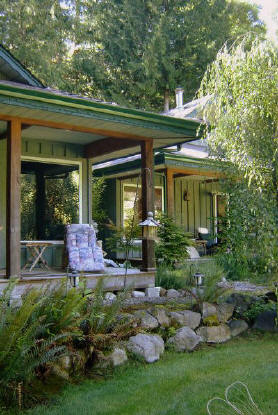 IF YOU GO:
Wildflowers Bed and Breakfast




5813 Brooks Road
Halfmoon Bay, BC Canada
www.wildflowers_bb.com

Doug and Darcy Long
877-885-2003 or wildflowers@sunshine.net
ROCKWATER SECRET COVE RESORT
The great fun of traveling the Sunshine Coast by car is the opportunity to explore off the beaten path. We found a very competitive spirit among the restaurants in this laid back greenbelt. Hidden bays and coves abound, each of them absolutely beautiful and nearly pristine, offer prime dining ambiance. Restaurants almost invariably are perched on the edge of the strait, or sound, or cove, or bay. Windows offer panoramic views and patios mean unparalleled views. The hand of man is not very evident here except in the delicious meals!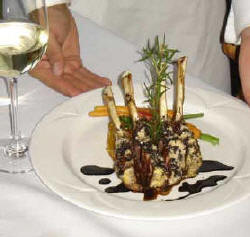 For the total package of outstanding quality, taste and presentation of our meal, Rockwater Secret Cove Resort tops our personal list. Located just a few moments from Wildflowers B&B, but well hidden, so ask for directions from your location!! While we ate our main courses inside, our waiter was happy to serve us dessert and coffee on the patio while we enjoyed the long Canadian twilight.
Rockwater Secret Cove Resort
5356 Ole's Cove Road
Halfmoon Bay, BC V0N 1Y2
kevintoth@lordjims.cm
604-885-7038
The PURPLE BANNER ART TRAIL from Gibson to Powell River invites you to drop in on working artists who live and create along Hwy 101. Self-guiding brochures are available at the Ferry terminals and other public places. When the banner is displayed along the road, the artist is at work and will kindly accommodate a visit from you in their studio.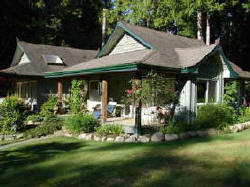 CONTINUE to Egmont, Skookumchuck Narrows and West Coast Wilderness Lodge
Map of the Sunshine Coast of British Columbia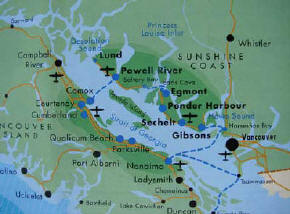 Vancouver Island separates the Gulf of Georgia Strait from open ocean. The island with its snow-capped mountains forms a natural breakwater which means the waters in the Strait offer exceptionally pleasant ferry transfers, yachting, and kayaking.
Map of the Sunshine Coast of British Columbia