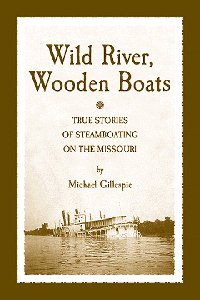 Author Michael Gillespie was interviewed on the HISTORY CHANNEL program entitled, "Skeleton In The Sand--The Montana." Tues. Sept 2nd. 8pm EST. Please use the links below to explore WILD RIVER, WOODEN BOATS.
Michael Gillespie is also the author of COME HELL OR HIGH WATER, A Lively History of Steamboating on the Mississippi and Ohio Rivers. Thank you for visiting www.greatriver.com !

Wild River, Wooden Boats
by Michael Gillespie
[ See Sample Chapter ] [ Order ] [ Mississippi River Home ]
SELECTED BIBLIOGRAPHY

THE FOLLOWING LIST OF ARTICLES, BOOKS, PRIVATE JOURNALS, GOVERNMENT DOCUMENTS, DISSERTATIONS, AND NEWSPAPER ARTICLES WERE CONSULTED AND USED IN THE PREPARATION OF THIS MONOGRAPH.


Audubon, Maria R., ed. Audubon and His Journals. 2 vols. New York: Scribner's Sons, 1897.

Blossom, Henry Martyn, Journal, 1851-1853. Missouri Historical Society Collections. St. Louis.

Carroll, William F. "Arsenal Island: The Ellis Island of the West." Westward 7
(November 1977): 5-17.

Chappell, Phil E. "Missouri River Steamboats." Transactions of the Kansas State Historical Society 9 (1906): 278.

Chittenden, Hiram M. History of Early Steamboat Navigation on the Missouri River: Life and Times of Joseph LaBarge. 2 vols. New York: Francis P. Harper, 1903.

________ and Richardson, Alfred T. Life, Letters, and Travels of Father Pierre-Jean DeSmet, S.J., 1801-1873. 4 vols. New York: Francis P. Harper, 1905.

Cowell, Joseph L. Thirty Years Passed Among the Players in England and America. New York: Harper, 1844; reprint ed., Hamden, Conn.: Archon Books, 1979.

Daily Missouri Republican [St. Louis]. 8 July 1839; 4 July 1842; 25 June 1844; 3 July 1844;
4 April 1845; and 28 February 1856.

Deatherage, Charles P. Steamboating on the Missouri in the Sixties. Kansas City: Alexander Printing, 1924.

Dohan, Mary H. Mr. Roosevelt's Steamboat. New York: Dodd, Mead & Co., 1981.

Encyclopedia USA. S.v. "Barge Lines," by Michael L. Gillespie.

Fitch, George. "The Missouri River, Its Habits, and Eccentricities Described by a Personal
Friend." The American Magazine 53 (1907): 637-40.

Foster, Walter B., Diary, 1840-1845. Missouri Historical Society Collections. St. Louis.

Greeley, Horace. An Overland Journey from New York to San Francisco in the Summer of 1859. New York: Saxton, Barker & Co., 1860.

Hamilton, Thomas. Men and Manners in America. 2 vols. Edinburgh: William Blackwood, 1833.

Hanson, Joseph M. The Conquest of the Missouri, Being a Story of the Life of Captain Grant Marsh. N.p.: A.C. McClurg, 1909.

Havinghurst, Walter. Voices on the River. New York: Macmillan, 1964.

Heckman, William L. Steamboating: Sixty-Five Years on Missouri's Rivers. Kansas City:
Burton Publishing, 1950.

Hesse-Wartegg, Ernst von. Travels on the Lower Mississippi, 1879-1880: A Memoir. Edited and translated by Frederic Trautmann. Columbia: University of Missouri Press, 1990.

Hopkins, Arthur E. "Steamboats at Louisville and on the Ohio and Mississippi Rivers."
The Filson Club Historical Quarterly 17 (July 1943): 146-48.

Hubbell, William D. "Reminiscences of Captain William D. Hubbell." Richmond [Mo.]
Conservator, 11 March 1881 and 18 March 1881.

Hunter, Louis C. Steamboats on the Western Rivers. Cambridge, Mass.: Harvard University Press, 1949.

Latrobe, Charles J. The Rambler in North America. 2 vols. London: Seeley & Burnside, 1836.

Lienhard, Heinrich. From St. Louis to Sutter's Fort, 1846. Edited by Erwin G. Gudde and Elisabeth K. Gudde. Norman: University of Oklahoma Press, 1961.

Nichols, George W. "Down the Mississippi." Harper's New Monthly Magazine 41
(June-November 1870): 835-45.

Niles National Register 66 (20 July 1844): 330-31.

"Notes of a Missouri Rambler." Missouri Historical Society Bulletin 3 (1946): 7-10.

Official Records of the Union and Confederate Navies in the War of the Rebellion. 31 vols. Washington: GPO, 1895-1925.

Parkman, Francis, Jr. The California and Oregon Trail. New York: Putnam, 1849.

Paxton, W.M. Annals of Platte County, Missouri. Kansas City: Hudson-Kimberly, 1897.

Petsche, Jerome E. The Steamboat Bertrand: Histroy, Excavation, and Architecture.
Washington, GPO, 1974.

Pope, James S. "A History of Steamboating on the Lower Missouri, 1838-1849, Saint Louis to Council Bluffs, Iowa Territory." Ph.D. dissertation, St. Louis University, 1984.

St. Joseph [Mo.] Gazette, 14 April 1852 and 15 May 1846.

St. Louis New Era, 11 September 1843; 4 June 1844; and 19 December 1845.

Saturday Evening News [St. Louis], 10 March 1838.

Shrader, Dorothy H. Steamboat Legacy: The Life and Times of a Steamboat Family. Hermann, Mo.: Wein Press, 1993.

Thorpe, Thomas B. The Mysteries of the Backwoods; or Sketches of the Southwest.
Philadelphia: Carey & Hart, 1846.

________. "Remembrances of the Mississippi." Harper's New Monthly Magazine 12
(December 1855-May 1856): 39.
Trail, E.B., Collection, 1858-1965. Joint Collection--Western Historical Manuscript
Collection and State Historical Society of Missouri Manuscripts. Columbia.

U.S. Army. Corps of Engineers. Missouri River Navigation Charts: Kansas City, Missouri, to the Mouth. Omaha: U.S. Army Engineer Division, 1977.

U.S. Congress. House. Message from the President of the United States to the Two Houses of Congress. H. Executive Doc. 2, 28th Cong., 2nd sess., 1844.

Way, Frederick, Jr. Way's Packet Directory. Athens: Ohio University Press, 1983.

Wayman, Norbury L. Life on the River. New York: Bonanza, 1971.

Weekly Reveille 1, no. 46 (25 May 1845): 362; ibid. 2, no. 8 (1 September 1845): 475; and
ibid. 2, no. 48 (8 June 1846): 886.
---
Items 11 - 13 of 13
Items 1 - 10 Items 11 - 13

TOP OF PAGE