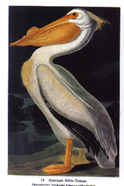 A strange old bird is the pelican,
His bill can hold more than his belly can!
~Ogden Nash
Click Here! here to post your bird sightings, questions and comments for our other readers.
Audubon's American White Pelican
3-27-07
"American White Pelicans were gathered in great white clusters... like pure white snowbanks... along the island beaches just north of Stoddard, Wisconsin, today. The sky was gray, the water as well. Pelicans who were not populating the banks were massed in thick circulating clouds that probably stretched as far as Brownsville, Minnesota. What a beautiful sight!"
---
PELICANS on UPPER MISSISSIPPI RIVER may now linger into November... it is not unusual to see both Tundra Swans and American White Pelicans on Pool 8 in November.
Bob Lamb, Outdoor Editor at the La Crosse Tribune, reported recently that the American white pelicans are back on the Upper Mississippi River. Look for them on the backwaters of the Mississippi and Black rivers in La Crosse, Wisconsin, and south of Goose Island.
Whether they are just passing through to breeding grounds in Lake of the Woods in Minnesota or further into Western Minnesota is unclear at this point. The birds may be stopping in the area just long enough to feed on plentiful carp and buffalo. "Bachelor" or young, non-breeding, birds of either sex may stay in the area through the summer. Mary Stefanski, refuge operations specialist with the La Crosse District office of the Upper Mississippi National Wildlife and Fish Refuge is currently unaware of any nesting colonies of pelicans in Wisconsin, but is requesting that birders keep an eye out for pelicans of breeding age. These will have a hump like a steering board on their bright yellow beaks.
Pelicans will nest in open areas on islands and peninsulas. They make their nests in open areas by scraping the ground into a bowl just far enough from the neighboring pelican to avoid getting pecked. They can also be found nesting with cormorants. Anyone discovering any pelican nesting activity is asked to call Stefanski at 608-783-8403.
Some additional pelican facts from Bob Lamb:
The American white pelican weighs 6-10 pounds or more
Wingspan is 8 to 9 feet.
It winters in the Gulf of Mexico, mainly around Texas. It nests as far north as Minnesota and possibly Canada. We have seen them in the Rocky Mountains!
Females lay two or three chalky-white eggs that hatch in about a month. They can fly at about 10-12 weeks.
---
I clearly remember one late summer evening in 1994 when the Mississippi Queen was passing Turtle Island, west of Stoddard, Wisconsin. The bluffs and the still river reflected the pink and lavender colors of the sunset painting the sky. We stirred up a colony of several hundred pelicans that must have been resting near the island. The whole colony swirled slowly in huge circles around the steamer.
"This has to be heaven," one of the passengers murmured as we watched from the bow of the boat. I can't think how heaven could be any more beautiful than that moment."
---
---
More Great Links!
Visit our Birding Page for dozens of birding links, including the Viewer Forum for reporting bird sightings.
Redberry Lake (Canada) Pelican Research Station
---
4-5-97
Interesting, I have been Photographing the White Pelicans as they migrate through Clarence Cannon Wildlife Refuge on the Mississippi River. This site is just South of Clarksville, Missouri. This is my first encounter with the pelicans in the six years I have been doing outdoor photography. Today, April 5, 1997, I believe I got some good slides of the last remaining birds before they left for more Northern climes. The pelicans were soaring into a forty mph wind against a clear blue sky. Last week I estimated about 400 pelicans on the refuge, today maybe only a hundred. Keep up the good work.
--Al Blount. Overland, Mo. ABlount982@aol.com