Houseboat Adventures
Cruising on the Mississippi is safe, convenient, and FUN! We hope you find this general houseboating information to be useful as you plan your journey. For further details, please contact one of our sponsor sites!
---
Boating on the Mississippi
Welcome Aboard, You'll Love It!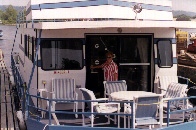 You'll love houseboating on the Mississippi!...quietly, smoothly, easily, cruising up and down the scenic Ol' Miss. There are so many things to view and do...the green bluffs that turn to gold in fall...swimming and cooking out on the deck or sunning on the top deck...fishing for game and pan fish from the deck of your own covered houseboat...docking on miles of beaches or piers to try area restaurants, theaters, golf courses, and tennis courts. Explore galore yet be snug and safe inside.
MENU


Frequently Asked Questions
Boating on the Mississippi
Our Home Port
Accommodations and Floor Plans


Return to Greatriver.com