WATERWAY CRUISE REPORT: Honfleur to Paris on the Seine River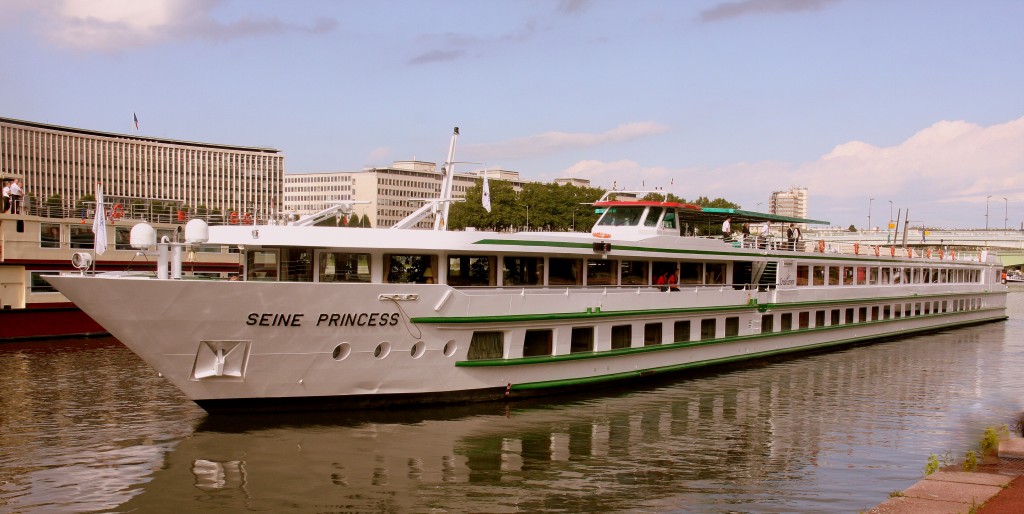 Cruising France's Seine River with CroisiEurope on the Seine Princess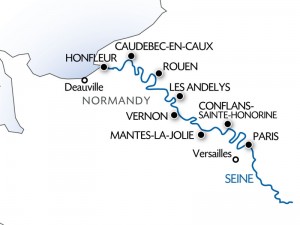 Text and photos by Richard and Pat Middleton
Every new small boat river cruise offers the prospect of whole new dimensions of knowledge and adventure. European river cruises, especially, offer fresh vistas, new food delights, and the prospect of a little cultural adventuring.
While we expected a mix of various European languages to be represented on our French cruise, this particular cruise of about 40 passengers was largely SPANISH, with one other ARMENIAN couple who spoke a bit of English. While the cruise director on board spoke native Spanish, the four of us who spoke English were always provided with an excellent English speaking guide who was generally delighted to be responsible for such a tiny group!
The Armenian couple were to be our table mates for the next 8 days; and for the first time, we had to look up a country on Wickipedia! The fall of the Soviet Union was still crystal clear in their minds, the economic collapse was something they still struggled with daily, from retired parents who lost their life savings to young sons, who might well settle among the one million Armenians already living in California!!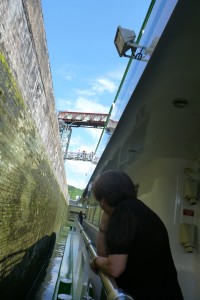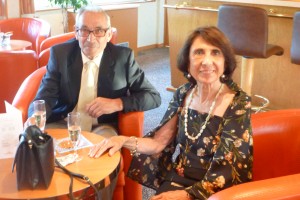 CroisiEurope is one of the largest cruise operators in Europe, offering over 30 different river cruises from the Atlantic ocean to its newest cruise on the Mekong River Delta in Vietnam. Their passengers are mostly Europeans and North Americans.
While they have long served the river-cruising public, industry studies indicate that only a small percentage of the general population is even aware of small boat river cruising. Pedro, our hotel manager was constantly on duty and one of the most professional cruise managers we've had the pleasure to meet. He had recently left a land-based hotel to manage the Seine Princess.
"Because our repeat business is so robust, it is our passengers who really drive us to keep searching out new rivers to cruise...like the Mekong River!" he observed.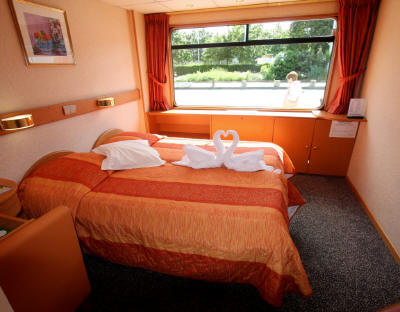 Our rooms were on the Seine Princess were pleasant with large windows past which we saw a steady flow of limestone bluffs, rural villages, fishermen, and an occasional castle ruin. Showers and baths were smaller. My understanding is that the Seine Princess was designed especially for the American trade, with larger rooms, and comfort-topped beds. Water in the rooms was potable, but large bottles of drinking water were readily provided.
He credited the calm, professional air among staff to the fact that, "Our staff knows exactly what needs to be done, when it needs to be done. And they do it!" We found cabin staff, to be discreet, and the daily routine of meals and shore trips were managed flawlessly. There was a steady sense of calm and good nature about the staff ... owing to the fact, perhaps, that every staff member had one day off each week they were working the cruise. We thought that was unique among the river cruising boats.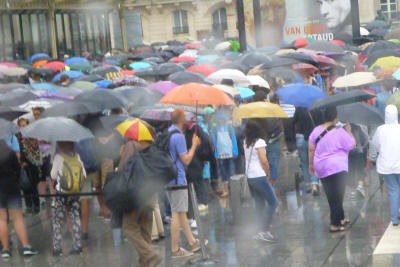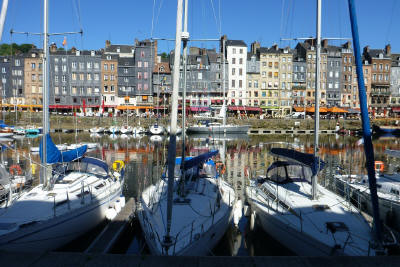 From our first evening at port in Honfleur, we enjoyed a steady succession of delightfully presented meals and complimentary wines. The open bar, also mostly complimentary, was available throughout the day throughout the cruise.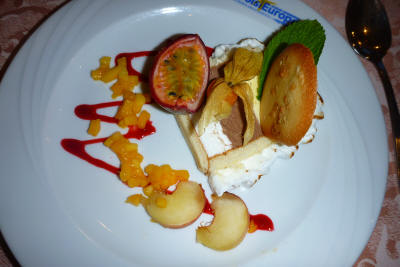 Shore tours were optionally, ranging from about $30-$70 per person. Guides were passionate and very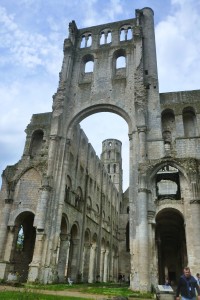 knowledgeable. Walking tours, bus tours of the countryside, a visit to a Calvados distillery and 13th century ruins all greatly added to the sense that we had experienced a good deal of the Seine River culture. An optional day-long bus trip along the Normandy coast includes vistas of the landing beaches of Juno, Omaha, Pont du Hoc, and the museum at Arromanches.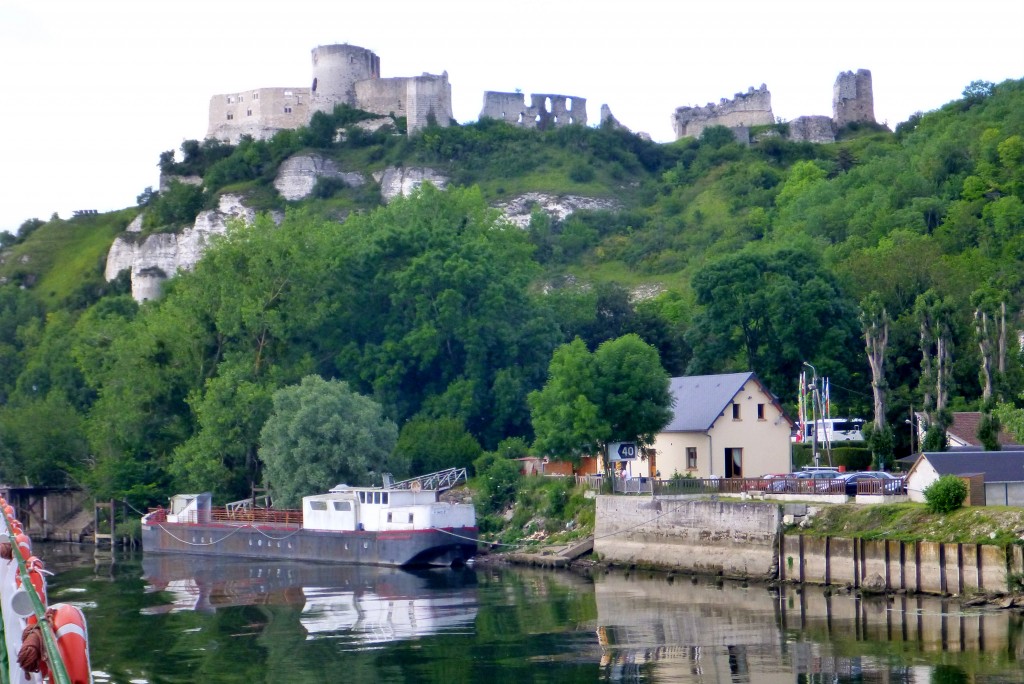 We discovered that there are castle ruins and locks on the Seine... and low-slung bridges, some dating from the middle-ages! Also lush bluffs several hundred feet high composed of the white limestone and chalk from which so many buildings were constructed.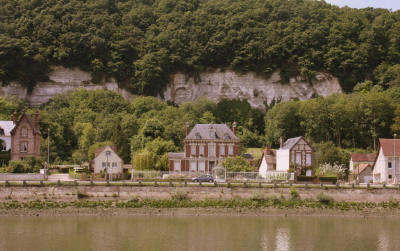 At the time of the cruise I was reading a book called RICHARD THE 1, LIONHEART. Much of his domain was the old region of Normandy and one of the castles we passed was built upon his return from the crusades to help protect the area from attacks by the French King Phillippe.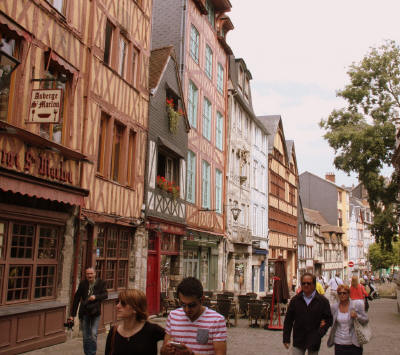 Rouen, with it's beautiful medieval streets and the market square where Jean d'Arc was burned at the stake has always been a favorite destination of mine. Our Sunday morning visit found us inside the cathedral as the bells began to ring. We stayed long enough to enjoy the beautiful organ concert. A statue and a brief history of the life of Joan of Arc made for fascinating reading. What a legacy for a community to shelter!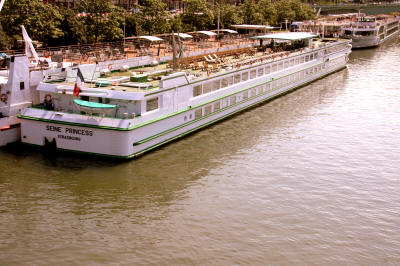 The river cruise boats in Europe are similar to the flat shape of a Mississippi River barge. Pilot houses telescope up and down as low-slung medieval bridges might dictate.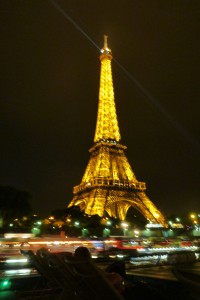 Our most memorable moments came during a late evening cruise through Paris. We were assigned to reclined lounge chairs set up on the deck as the boat slipped under bridges, past Notre Dame, and finally docked at the foot of the Eiffel tower! Deck crew vigilantly guarding that no one raised the back of the chairs.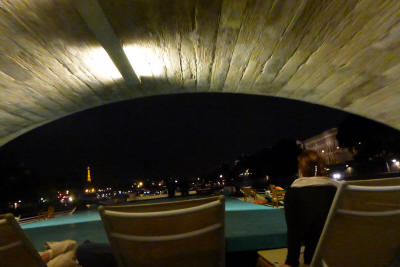 SHOULD YOU GO?
Yes, sit back and enjoy! You'll hear as many as nine different languages buzzing around you... but you'll know you aren't in Kansas any more!
All in all, I think HOSPITALITY was the hallmark of our CroisiEurope cruise experience. Staff was calm and competent, willing and able to serve. Rooms were clean and comfortable, though I seldom even saw the housekeepers. Dining room and bar staff dressed and served professionally. We often sent our thanks to the chef for a really tasty and tasteful meal. More difficult dilemma's... like an unexpected transportation strike...brought out the best in our staff. Shore trips covered the gamut of life and culture along the Seine River. Tour guides were excellent.
When a Parisian transportation strike was called on the Saturday departure date, Leila, our assistant hotel manager was up at six a.m. to personally secured an early morning taxi for us. When I complimented her for that, she said simply that, "There is always a solution to every problem. If we have to be flustered, we simply haven't thought of the right solution yet. If this driver hadn't helped me, I had two other ideas. I would have gotten you to the airport!"
What a great attitude for a 28 year old!! And what a great culture for the cruise boat staff.
*Housekeeping on the boat, and general maintenance was EXCELLENT
*Meals were EXCELLENT
*Complimentary wines and open bar in the lounge were unusually generous, even on European cruise boats
Contact Information:
CroisiEurope
0 825 333 777

Strasbourg
12, rue de la Division Leclerc
67080 STRASBOURG Cedex
Tel. 03 88 76 40 66
info@croisieurope.com
INDEPENDENT TRAVEL RECOMMENDED!

The village of Honfleur and the city of Rouen are among the highlights of cruising the Seine River. With the world of Paris at one end of the cruise and the rural, picturesque Normandy coast at the other, this cruise cries out for extra independent travel at either end. We rented a car upon arriving in Paris and deposited it in Caen before catching a train to Honfleur. The train station was right across the street from the car rental area, so it was an easy transfer.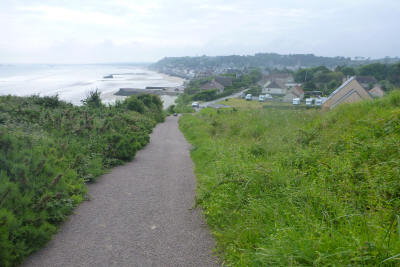 Be sure to make car rental arrangements in advance and have your paperwork with you! We used AUTOEUROPE and it worked out perfectly. We picked up our vehicle at the Paris airport and GPS got us safely and efficiently through the city. Many visitors will want to spend perhaps four days in Paris at one end or the other of the cruise, but we were eager to get to the landing beaches of Normandy and had a hotel reserved in Arromanches. We explored the Normandy coast and then met our boat in Honfleur.
To see MORE about our trip to Arromanches and rediscovering "Abe" the Eagle, please visit our RAMBLIN' ON BLOG . For more observations about our cruise experience, click here!
For more WATERWAYCRUISE REPORTS visit our Index of cruises...
RETURN TO GREATRIVER.COM