CORPS RECOVERS MASTODON SKULL FROM THE MISSISSIPPI RIVER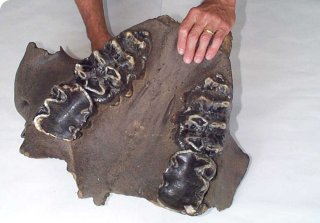 St. Louis, Missouri, September 7, 1999 – The U.S. Army Corps of Engineers, St. Louis District announced today, the recovery of a Mastodon skull from the Mississippi River near the confluence of the Ohio River. The Mastodon, an extinct, elephant-like mammal, roamed North America between 10,000 and 3.75 million years ago. This skull was recovered on August 24, 1999, at mile 8 of the Mississippi River. The skull was discovered by Mr. Tom Winston, an equipment operator on the Corps' The Dredge was working on channel maintenance near the confluence of the Ohio and Mississippi Rivers.
The find was immediately reported to Corps officials in the St. Louis District. The skull was inspected and confirmed by Corps' Archeologist Dr. Terry Norris. The artifact will be taken to the Illinois Museums for further study to determine the exact age of the specimen. The Corps intends to display the artifact permanently at the National Great Rivers Museum, at Melvin Price Locks and Dam, near Alton, Illinois. The Visitor Center is currently under construction and will be open sometime in 2000.
Scientists believe that mature mastodons weighed between 4 to 6 tons and stood up to 10 feet tall, slightly smaller than modern day African Elephants.
For More on Mastodons in the Mississippi River Valley CLICK HERE.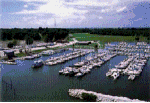 This