1858 Plantation Map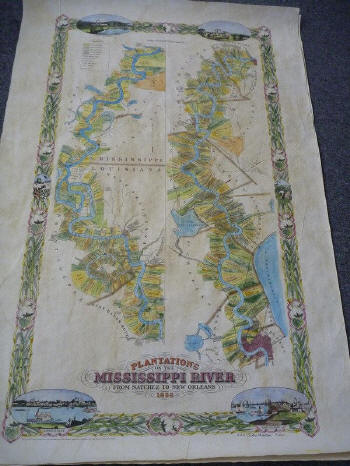 Hand-Painted in exquisite Detail!

Antiqued, hand-painted reproduction of the PLANTATION MAP, 1858, South from Natchez, Mississippi, including parts of Arkansas, and Louisiana.
We currently have only 3 of these beautiful, large hand-painted maps available. Individual plantations are clearly labeled.
"Your Ivory map is beautiful!! He will love it! Thanks so much!"
~ Seattle
36" x 57"
Also Available, ARTIST'S PROOF
1858 Plantation Map Print

Only 7 full-sized proof prints were made of our 2006 Plantation Map Painting. Certificate provided.
Price: $300
NOW $240


Questions? Please call us at 888-255-7726 (days only, please!) or email anytime:
---
Crawford County, Wisconsin River to the Rock River in Illinois



5x7" photo quality note cards are available for ALL historic maps. $4.50 ea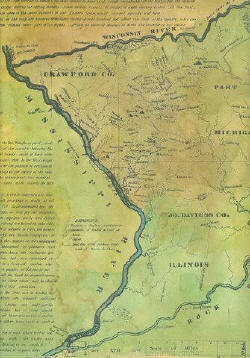 Please call 888-255-7726 to order.
Portion of the Crawford County Lead Mines bounded by the Wisconsin River to the North and the Mississippi River to the West. Includes Mineral Point, Dodgeville to the East. Reproduction is crystal clear.
Hand-colored, $300.00 Now $240
---

1887 Ribbon Map by Willard Glazier
Hand Painted Collector Edition
This reproduction of a rare Mississippi River "ribbon map" was drawn by Captain Willard Glazier to "prove" his premise that the True Source of the Mississippi was Lake Glazier rather than Lake Itasca. Looking for modern day towns on an old map? Many modern-day towns are included in this. It also contains many towns noted no longer appear on maps, like Waterproof...which wasn't!
Each ribbon map in this edition is delicately and individually hand-painted in skillfully blended watercolor earth tones.
Available in two sizes.
Hand-Painted Father of Waters
4" x 38" $198 Now $160