Discover!
America's Great River Road
Volume 2
The Middle Mississippi
Dubuque, Iowa to St. Louis, Missouri

by Pat Middleton
---
"Discover! America's Great River Road is a terrific guide for those who relish boating, fishing, or cruising on land along the Mississippi River."
--Denyse Perry, Booklist review, Journal of the American Library Association


---
Discover! serves as a friendly guide for families touring the scenic route known as America's Great River Road., supplying a little background of each town along the way and a summary of what to see and do, including parks, campgrounds, river access, and historical sites. They also mention some interesting places to shop, stay overnight, and eat--though Middleton includes much that is infinitely more interesting--intriguing sketches of characters, places, and early incidents that shaped the history of many of the areas along the river.
--Linda Hilton, Editor Wisconsin REC News
---
---
I drove the Great River Road from St. Paul to St. Louis last fall with Discover! at my side. When we passed out of its parameters we felt a sense of loss. I eagerly await the release of Volume 3.
--St. Louis Post-Dispatch
---
Reader Feedback

2-28-96 Michael writes from Duluth, Minnesota:
My family and I drove the Great River Road from St. Louis, Mo. to Dubuque, Iowa, this past summer. Needless to say, Volume 2 of your Discover! series was our invaluable guide and companion on our way. Our trip was greatly enhanced by the historical and geological background your volume provided, as well as the guidance to points of interest and places to stay.
The visit to the Wadlow statue in Alton, Illinois, was the highlight of our trip for our 8-year old daughter, who has been inseparable from the Guinnes Book of World Records ever since. Needless to say, we would not have known even to look for it had we not had your book with us.
Our last stop before leaving the GRR was at Bellevue State Park, in Iowa. A brief visit to the Butterfly Garden on a very hot day resulted in one of our favorite pictures of our 3-year old son.
My comment is that all of the features you included in your book were extremely helpful in organizing our trip and enhancing our enjoyment of the areas we passed through.
Historical information meanders through your book as the river meanders through the landscape. Thanks for taking the time to read my feedback--and thanks for writing your book!
---
Click Here for MORE Reader Feedback!
[Return to Book Listings][More Media/Reader Comments]
---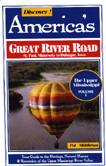 See Sample Pages
Sample Chapter. This file utilizes Acrobat reader which may be downloaded FREE from Adobe.

Portion of the Index
Press control-home to return to top of page/table of contents.
---
---
Order Information
Price List:
$13.95 each for Volume 1 (St. Paul to Galena, Illinois) and Volume 2 (Galena to St. Louis), or Volume 3 (St. Louis to Memphis).
$6.95 for the Mississippi River Activity Guide for Kids
$3.95 for the full-size Poster Map of the Entire Mississippi River Valley
$23.00 For Mississippi River Activity Guide and Teacher Application Notes (appropriate for 3rd-6th Grade)
$63.00 for Complete Mississippi River Teacher Resource Kit (includes Volumes 1, 2 and 3)

Order Options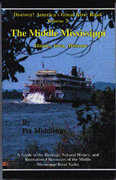 Call toll free, 1-888-255-7726 or 1-800-678-7006 for same-day shipping.
To order from Amazon.com an on-line bookstore:
Click Here
To Order by Mail:
Mail Check or Credit Card information and ORDER FORM (press "print" on your browser) to Heritage Press. :
Heritage Press
Rt. 1, W987 Cedar Valley Rd
Stoddard, WI 54658


---