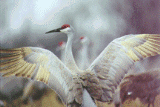 Mike Forsberg Photo


What a difference a day makes!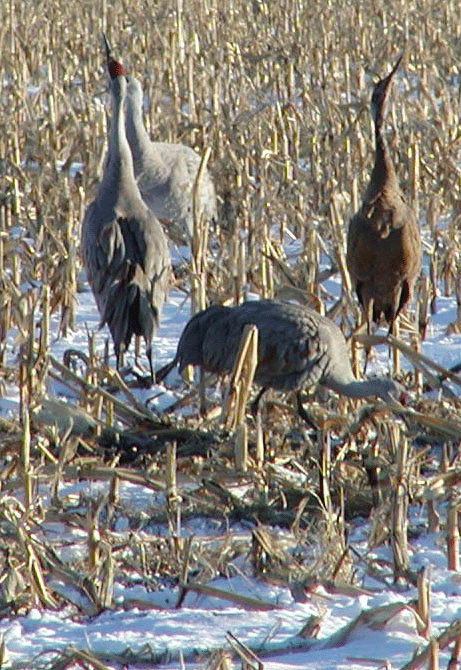 Our March 1st visit to see for ourselves the annual return of the Sandhill Cranes to the Platte River between Grand Island and Kearney, Nebraska, was met with several days of blowing blizzard snows, whiteouts, and -25 chill factors.
The Sandhills we had traveled 9 hours to see were adaptable enough to turn south again until the temps edged up above 32 degrees on the last day of our visit. We, on the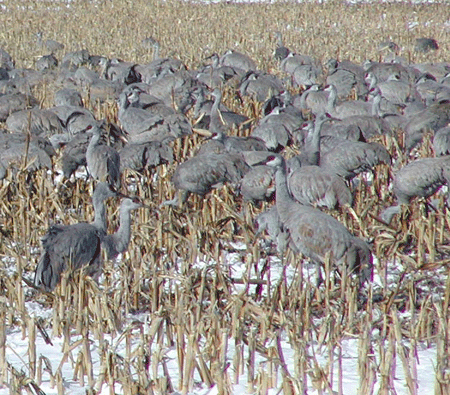 other hand, were determined to cruise the cornfields and camp out in the blinds for as long as time and temperatures allowed.
At the very last opportunity, we were rewarded with one of the all-time great natural displays in the world... standing alone in a blind at the Rowe Audubon Sanctuary, looking upriver into the glowing sunset above the Platt as thousands upon thousands of Sandhill cranes settled down out of the sky onto the frozen river before our eyes.

The cacophony of their bugling, cooing, and squawking both from on high and from the barely discernable sandbar where flight after flight circled to land in turn, was not yet deafening, (as it will be by the 16th of March) but it filled the balmy evening air and the night sky from every direction..

3/15 According to Julie at Crane Meadows, the sandhills are arriving in full force and the blind, bridge and bunkers tours are now filling up fast. Reservations are recommended. Email info@cranemeadows.org
What else to see in the Area
The I-80 follows very closely the original western trails across the USA: The Overland Trail, the Mormon Trail, The California Trail. We enjoyed several museums located along the route.
The National Western Trails Museum just off the I-80 in Omaha provided an excellent overview of the western movement. The Stuhr Museum of the Prairie Pioneer in Grand Island includes a large "living history" village, an excellent collection of Indian artifacts, and a traveling art exhibit which in March and April includes outstanding Sandhill Crane art and photography. In Kearny, NE, the Great Platte River Archway Monumentis located right over the I-80. The Fort Kearny State Historical Park just outside of modern-day Kearny offers interpretive displays and artifacts from the days of the western forts. We found it while cruising the section roads looking for cranes and snowgeese in the cornfields.
3/19 CRANE MEADOWS: "We are just about to the peak of our season. The cranes are beginning to dance and have a great time here. They seem to be really close to the road for viewing. Our tours are going very well and the weekends are full. ~ Julie"
Reader note:
This is considered to be the #1 birding opportunity in the world. Prime time for watching Sandhill Cranes and a multitude of Geese and ducks is March 9 - April 1.
Grand Island
Hall County Visitor's Bureau
Grand Island NE 68802
800-658-3178
rseifert@visitgrandisland.com
www.visitgrandisland.com
Best Western Riverside
Grand Island, NE 68801
308-384-5150
Where to See Cranes
Rowe Audubon Sanctuary
Gibbons, NE 68840
308-468-5282
rowe@nctc.net
Crane Meadows Nature Center - Just off the I-80
Wood River, NE 6883
308-382-1820
www.cranemeadows.org
info@cranemeadows.org
Great Platte River Archway Monument
(Over the I-80 at Kearney, NE)
Crane Tours scheduled daily
from 3/9 to 4/7, 2002
1-877-511-ARCH
www.archway.org
New! An overview of Sandhill Cranes in the Bosque del Apache Refuge, New Mexico
US Fish & Wildlife/Rainwater Basin District
308-236-5015

Fort Kearny State Historical Park
308-865-5305
Guide to Camping Nebraska
www.ngpc.state.ne.us/
Everything you every wanted to know about cranes! from the Nebraska Game and Parks Commission
http://www.ngpc.state.ne.us
/wildlife/cranes/sandhill.htm